At HelloPhysio, we provide evidence-based protocols and treatments according to the latest research in multidisciplinary healthcare. Our patient-empowerment approach believes in the power of physiotherapy to aid natural healing processes and improve overall outcomes. Our treatment plans are designed to reduce pain and discomfort and prevent the condition from worsening. We strive to help you regain strength, mobility and range of movement.
---
On this page:
Sports Physiotherapy for Injury & Rehabilitation
Sports Injury Physical Therapy, Rehabilitation, Strength Conditioning
Rehabilitation Therapy for Musculoskeletal Dysfunctions
Prehabilitation & Post-Operative Rehabilitation from Surgery
Joint Replacement Physiotherapy
HelloPhysio's Integrative Approach
---
Whether you want to achieve your peak athletic performance, recover from an injury or operation, or to simply live an active, pain-free lifestyle, we have you covered. Our physiotherapists are dedicated to helping you achieve your goals, safely and healthily.
Sports Physiotherapy for Injury & Rehabilitation
Sports physical therapy plays an important role in treating, preventing and managing injuries. Treatment helps athletes get back on track, prevention helps them achieve peak performance, and management helps prevent recurring injuries for high-performance athletes. HelloPhysio's innovative rehabilitation and pain management practice make us a trusted sports physiotherapy partner for many national and elite athletes in Singapore.
Sports-related injuries require a multidisciplinary approach to effectively evaluate and treat the conditions that affect athletes of different sports. Using innovative techniques, our physiotherapists will help you maintain your active lifestyle, by treating muscle imbalances and the areas of weakness in your body that prevent you from achieving your fitness goals.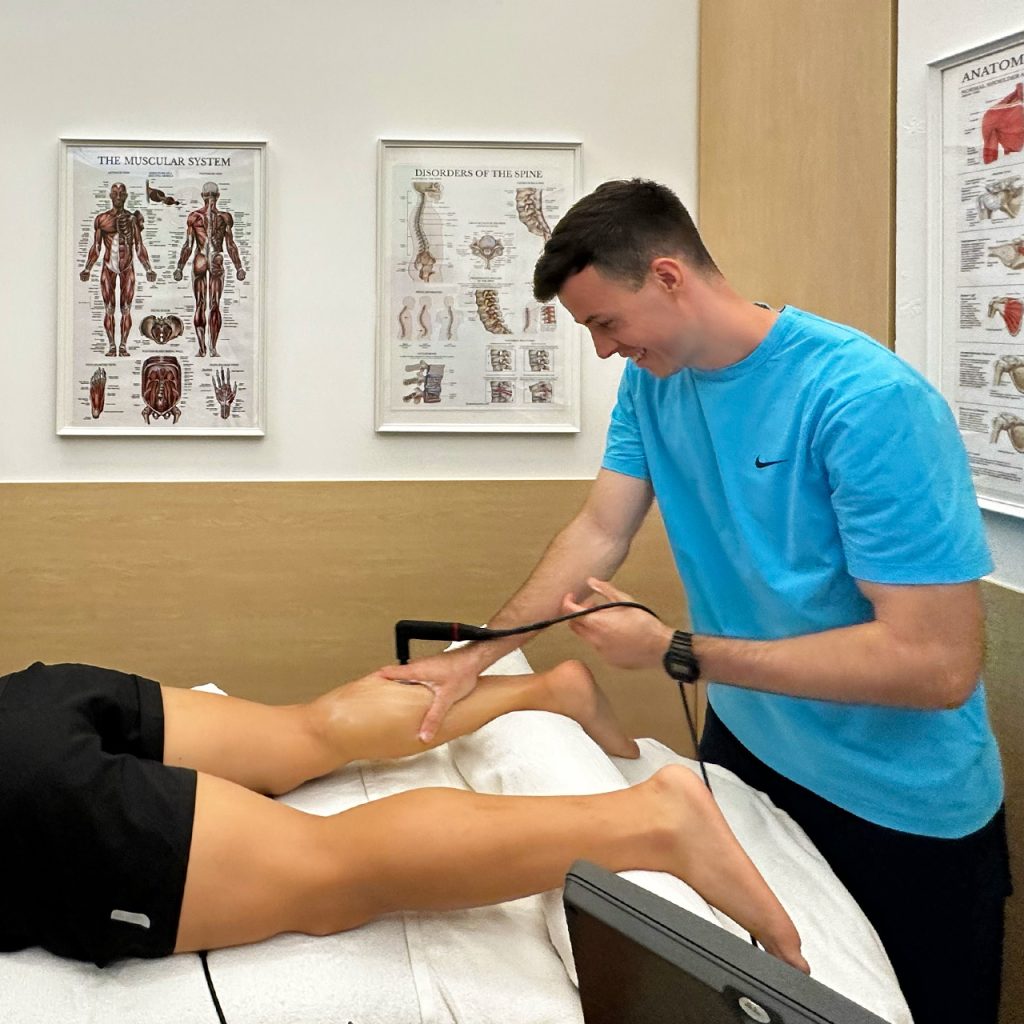 Sports Injury Physical Therapy, Rehabilitation and Strength Conditioning
Physiotherapists work closely with athletes to design and implement evidence-based strength and conditioning programs, especially following an injury or surgery. These programs are tailored to the individual's needs, goals, and abilities. We aim to not only improve performance but also to improve the body's vitality, reducing the risk of future injury.
Pain Management
Athletes accumulate many injuries throughout their careers, developing new sources of pain. To help manage this pain, our team employs a range of evidence-based techniques, including manual therapy, Clinical Pilates, and technology-enhanced modalities such as ultrasound, red light therapy and radiofrequency stimulation. These techniques are used in synchrony with individualized pain management plans that are tailored to meet the athlete's short and long-term goals.
Sports therapy is not just about treatment – it's also about prevention. Our team of sports rehabilitation therapists works with athletes, coaches and other sports medicine professionals to provide a comprehensive and integrated approach to build the body's resilience and manage its pain. Contact our sports injury clinic in Singapore today if you're suffering from an acute or chronic condition.
Rehabilitation Therapy for Musculoskeletal Dysfunctions
If you have a musculoskeletal dysfunction that requires surgery, physiotherapy can help you both prepare and recover for your operation. Our physiotherapists will work with you to design a prehabilitation and rehabilitation program best suited to your needs.
Prehabilitation
Before surgery, prehabilitation can assist you with your mobility and flexibility, so that your body is balanced and prepared for your operation. Prehabilitation is a proactive approach, geared towards preparing the body for surgery, or other medical procedures. It can include exercises and stretches to target the critical muscle groups, and teach you how to manage the pain and discomfort that follows surgery. Prehabilitation helps put your body and mind into the best space it can be, to improve your post-surgical outcomes.
Post-Operative Rehabilitation from Surgery
Physical therapy is critical in your post-operative recovery process to help your body restore balance and recover steadily. At HelloPhysio, we work intimately with orthopedic surgeons and healthcare providers to design programs best suited to your needs. This can include manual therapy, Clinical Pilates, or muscle reeducation following your surgery to aid the healing process.
Having a physiotherapist ready after your surgery can help avoid the most common post-surgery complications, like muscle weakness, adhesions, or scarring. Post-surgery physical therapy can alleviate pain, improve your range of motion, and restore strength and function to assist the healing process.
Joint Replacement Physiotherapy
Joint replacement surgery, also known as arthroplasty, is a surgical procedure that involves replacing a damaged joint with an artificial one. The most common joints that are replaced are the hip, knee and shoulder, afflicted by conditions such as osteoarthritis, rheumatoid arthritis, osteonecrosis, fractures, avascular necrosis, post-traumatic arthritis, and degenerative joint disease.
People tend to avoid arthroplasty until it's the last resort but like any other surgery, its pains and difficulties can be eased by prehabilitation and/or rehabilitation.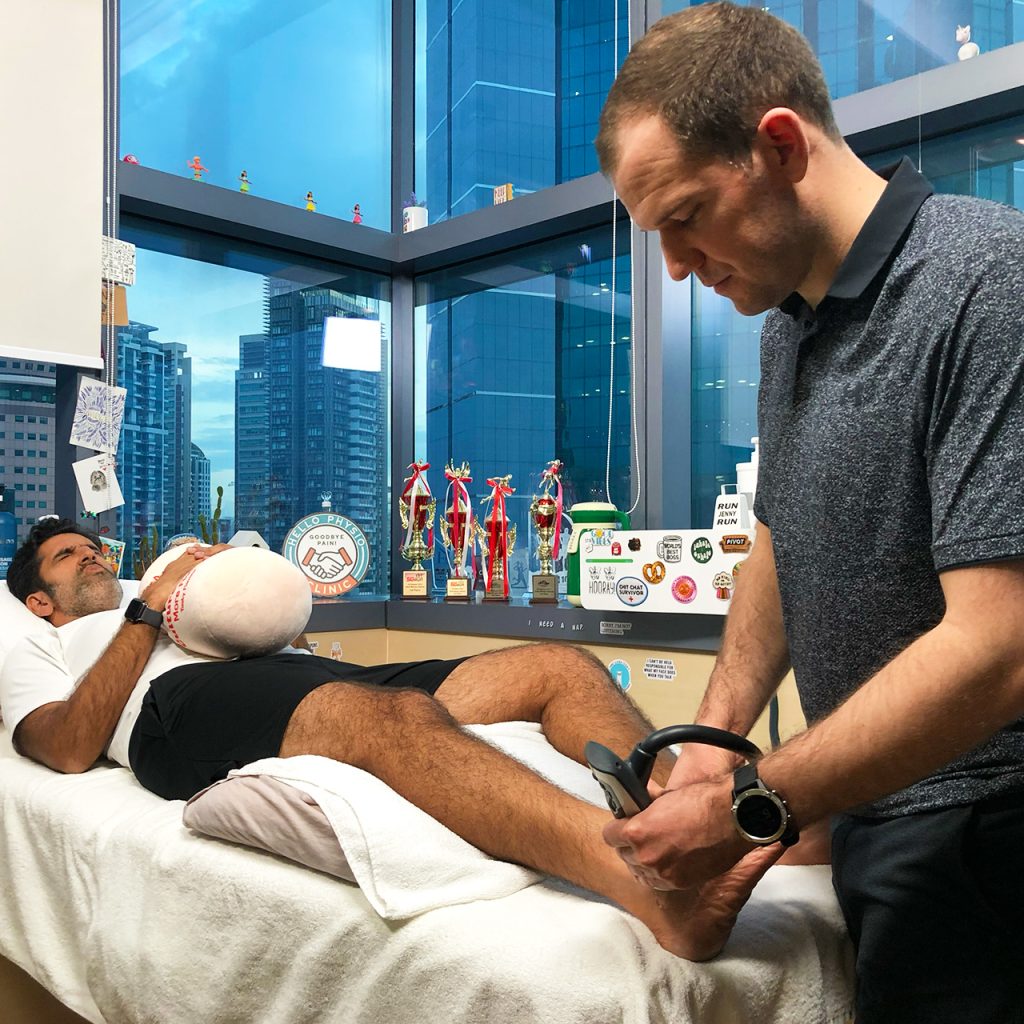 Physiotherapy & Rehabilitation Sports Clinic
At HelloPhysio, we believe in an integrative approach to diagnose, treat, and prevent chronic or acute musculoskeletal injuries. Our team utilizes the most advanced and innovative modalities such as INDIBA Activ ®, Magnetolith EMTT, Shockwave Therapy, and LightStim Red Light Therapy in conjunction with evidence-based therapies such as dry needling, sports therapy massages and Clinical Pilates to help restore balance to your body.
Our multidisciplinary team of physiotherapists and rehabilitation therapists aims to:
Alleviate pain and inflammation following an injury
Restore full function to the affected body part
Accelerate recovery and enable a return to normal sports activities
Promote a healthy lifestyle throughout sports rehabilitation
Reduce the risk of future or recurrent injuries
Increase strength in injured or weakened muscles
At HelloPhysio, our physiotherapists provide a comprehensive and integrated approach to the management of sports-related injuries, whether it be post-ACL reconstruction, shoulder impingement or hip labral tears. Our ultimate goal is to enable athletes to return to their sport at their optimal level of performance, through sustainable means.