Our collaborative approach ensures that patients' post-surgery plans are effectively coordinated with your orthopedic surgeon. This regimen focuses on enhancing strength, improving range of motion, and restoring function, addressing potential issues in the bones, joints, ligaments, tendons and muscles.
What Exactly Is Post-Surgical Physiotherapy?
Post-surgical physiotherapy aids in restoring joint mobility and muscle function. These therapeutic interventions also target the accumulation of scar tissue and other natural healing responses that might lead to complications later in life. The earlier you, your surgeon and your physiotherapist develop a rehabilitation and treatment plan together, the faster the recovery.
However, your recovery journey begins even before you go into surgery.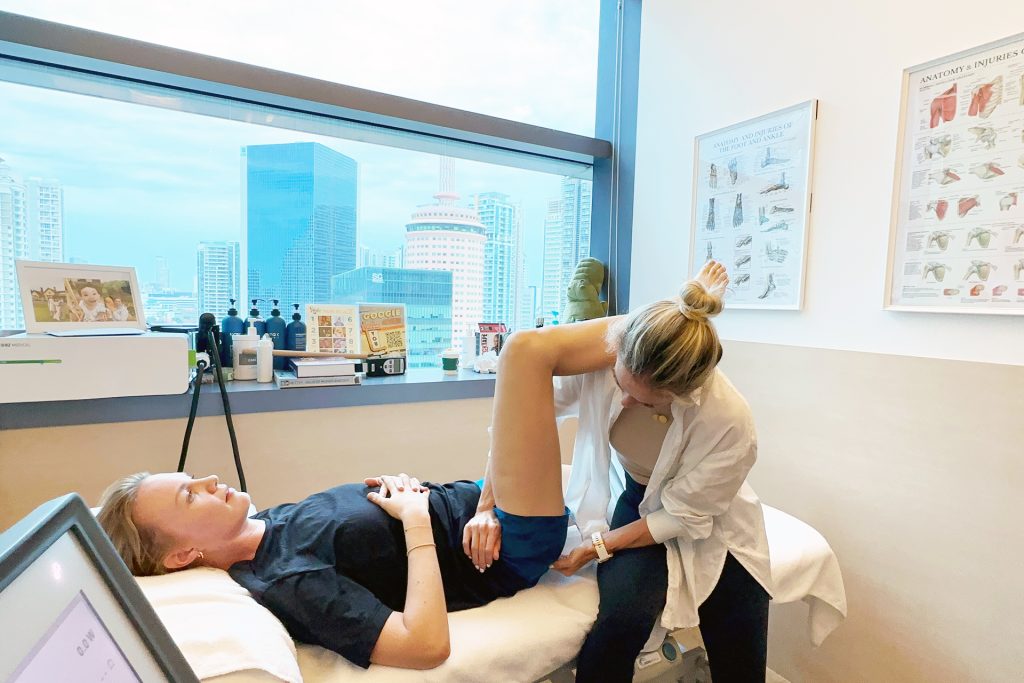 The clinical benefits of prehabilitation as part of your after-surgery physiotherapy are invaluable as part of your recovery. In medical practice, prevention is often as valuable as the treatment itself. Prehabilitation, taken as a preparatory measure before surgery, embodies this belief.
Through prescribed exercises, patients can greatly improve their mobility and strength, gearing up for the rigors of surgery. Moreover, prehabilitation offers crucial techniques for handling discomfort after the operation. The ultimate goal is to ensure patients have a quicker and smoother recovery following surgery.
Pain, inflammation, reduced range of motion, and muscle atrophy are all unfortunate side effects of surgery. Physio after surgery speeds up the healing process. It helps you recover and build muscle strength so that you can resume your daily activities faster.
The length of time it takes to recover from surgery is determined by a number of factors, including:
Type of surgery. The more invasive the surgery, the longer recovery will typically take.
Pre-operative muscle strengthening. The strength of your muscles before the operation has a direct impact on the muscle's post-operative strength.
Treatment plan. Different types of treatment can help accelerate healing. These treatments include the use of non-invasive radiofrequency, magnetic oscillation, and shockwave therapies — all of which have been clinically shown to significantly impact recovery. The decision of which technique to use depends on the type of injury and its location on the body.
Each patient's case is unique. The recovery period from a sports injury such as an anterior cruciate ligament/ACL reconstruction differs from degenerative chronic disorders that require total knee replacement surgery. That's why we work intimately with orthopedic surgeons to develop a personalised treatment plan that is right for you.
Benefits of Physiotherapy Post-Surgery
Following major surgery, the road to recovery is a crucial period that demands attention and expertise. The importance of post-surgical physiotherapy cannot be understated. It provides a structured pathway for patients to restore strength and mobility while minimizing the risk of potential complications.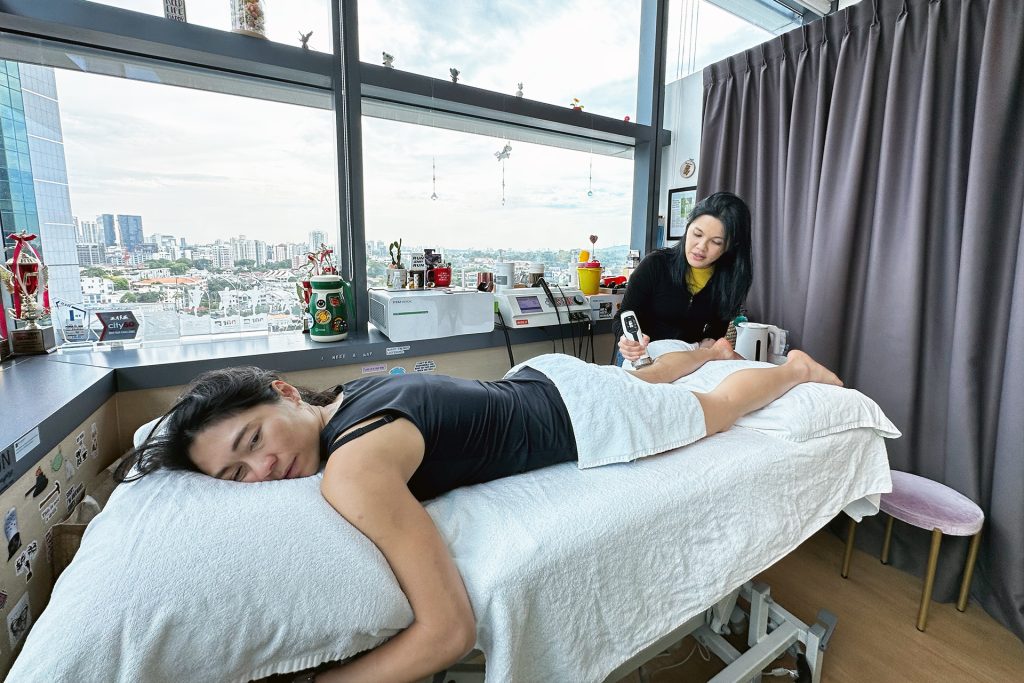 Post-surgery care in Singapore at HelloPhysio is at the forefront of bringing the latest technological approaches to addressing surgical pain and targeting scar tissue reduction. Additionally, we integrate manual therapy, mobilization and other adjunctive therapies.
With the right post-surgical care, patients can expect a comprehensive and evidence-based approach to their healing, ensuring they regain their optimal function and well-being.
What Should I Expect from Physiotherapy after Surgery?
Early intervention after surgery with physiotherapy plays a tremendously important role in the recovery process. When started soon after discharge, this clinical approach is beneficial for a range of surgical outcomes, whether it's an Achilles tendon repair, addressing hip dysplasia or a procedure on the posterior tibial tendon. 
The therapy's duration is tailored to each individual, continuing until the healing process is complete and any swelling has been mitigated.
In the crucial days and weeks post-surgery, the primary objectives of physiotherapy are twofold: firstly, to alleviate and manage pain, and secondly, to reintroduce gentle exercises that promote muscle functionality without compromising the healing and recovery process. 
It's worth noting that the specifics of physiotherapy in surgery aftercare are inherently personal, rooted in the unique nature of each patient's procedure, medical history, lifestyle and other mitigating factors. Some might benefit from manual therapy techniques aimed at enhancing flexibility, particularly in joints like the ankle. Others might find therapeutic value in modalities like shockwave therapy, especially post-knee surgery.
One constant, irrespective of the therapeutic approach, is the overarching goal of physiotherapy: to optimize the body's healing mechanisms, paving the way for patients to regain their normal rhythm of life, unburdened by pain. This comprehensive approach, grounded in evidence-based practices, underscores the importance of physiotherapy after surgery.
How Can a Physiotherapist Aid in Post-Surgical Recovery?
Surgery can be a frightening prospect, but the post-operative rehabilitation process doesn't have to be. HelloPhysio works with patients both before and after their surgeries to help them get the most out of their recovery and rehabilitation.
Your surgery recovery success is determined not only by the surgery but also by your pre- and post-operative rehabilitation.
Our post-surgery physio clinic has extensive experience with patients who have undergone joint replacement, arthroscopes, ligament reconstruction, muscle repairs, or surgical fractures, whether they be elective or emergency surgeries.
At HelloPhysio, we use the latest evidence-based post-operative care therapies and follow orthopedic guidelines to assist patients in regaining full strength and function. Our physiotherapist will guide you through the prescribed treatment plan from your surgeon to ensure optimal results throughout your rehab treatment process.
After surgery, we will work with your doctor on a physiotherapy treatment plan, catered to your specific needs. Exercise and movement soon after major surgery help to reduce swelling and prevent immediate pain from turning into a chronic condition. It's important that this is done in conjunction with your physiotherapist, as too much exercise or movement can end up slowing the healing process or creating another injury if the body isn't ready.
Understanding the Post-Surgery Therapy Process for Knee Dysfunctions
Our team often uses more than one type of technique so that we can tackle a number of issues, including pain, flexibility, rigidity and recurring injuries.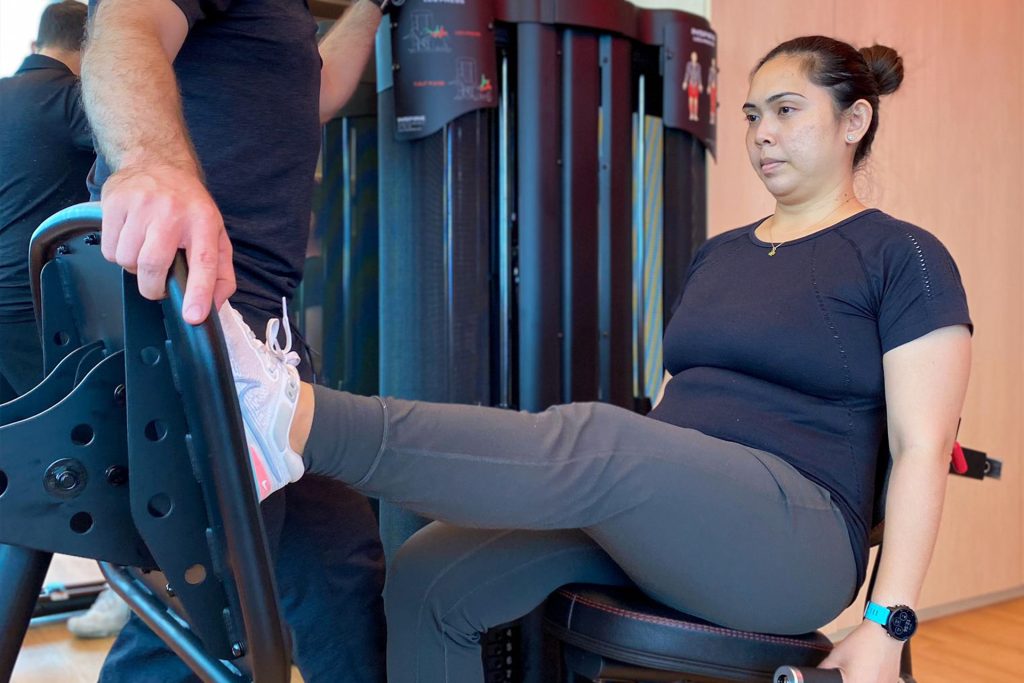 After knee surgery, for example, your aftercare physiotherapy plan may include adjunctive therapy and Clinical Pilates strengthening exercises. Our senior physiotherapist may also recommend INDIBA Activ as this technology works well with post-operative patients to reduce swelling and bruising and to break the pain cycle as post-surgery therapy following knee surgery. Further, shockwave therapy may be used to break down scar tissues during the first session.
We complement the use of technology with Clinical Pilates to improve your range of motion, and LightStim Red Light Therapy to improve blood circulation and cellular reparative function. To enhance muscle activation, restore joint function, and build strength, consider starting your recovery phase earlier after knee surgery with the assistance of the LightSpeed Lift.
Prehabilitation and post-operative physiotherapy may be eligible for health insurance claims by your provider. If you have any insurance questions, feel free to contact our physio clinic to discuss your treatment options. We are a leading pain specialist in Singapore and we want to help you manage your injuries.
Post-Surgical Physiotherapy FAQs