Leading Physiotherapy Pain Relief Practice in Singapore
HelloPhysio is a private pain relief practice in Singapore. Our multidisciplinary team brings a sound knowledge of injury presentations into rehab practice. We effectively treat painful musculoskeletal conditions and acute injuries throughout a client's recovery journey to improve clinical outcomes.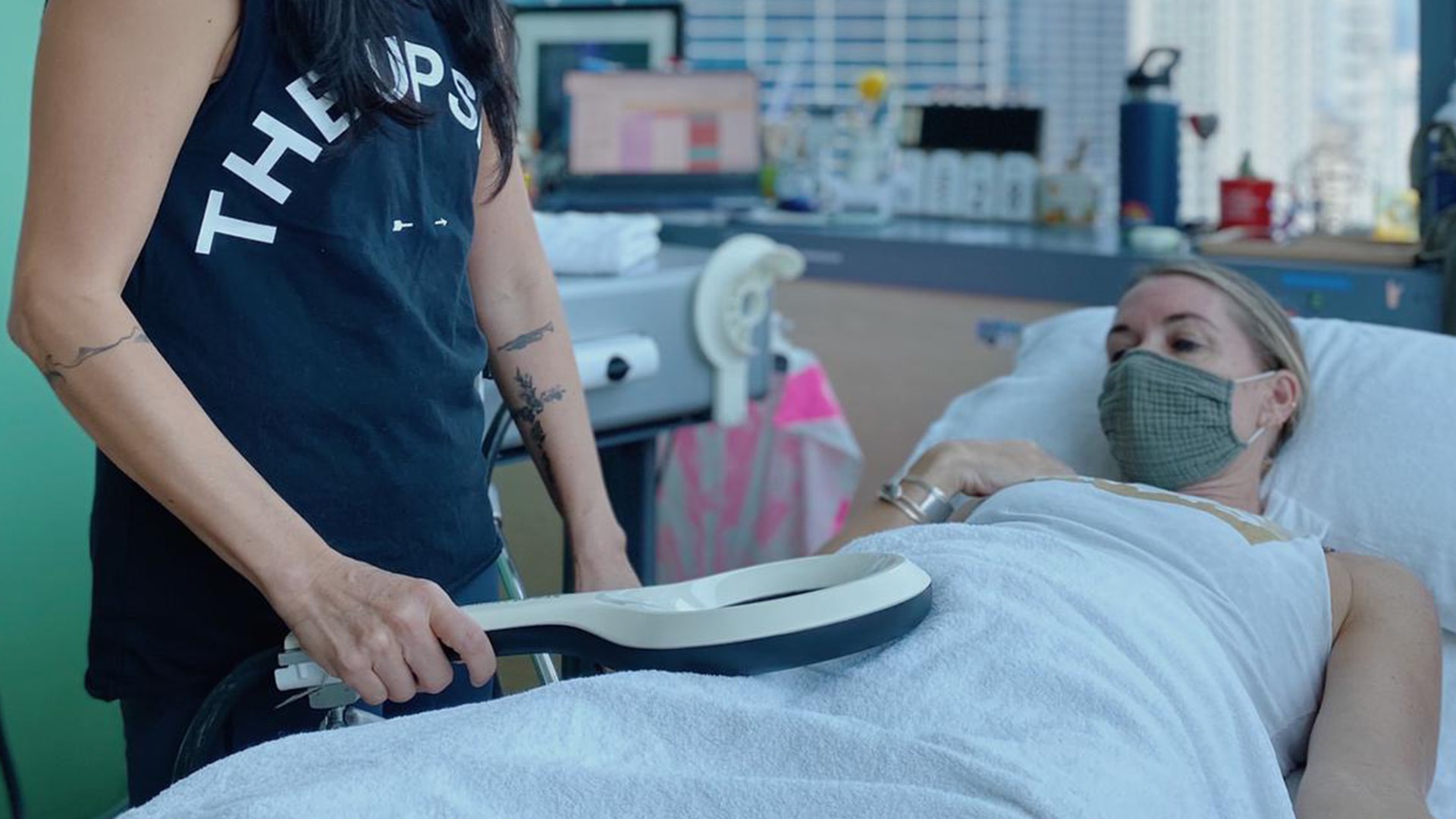 The Pain Relief Practice
Pain is a natural and protective biological function, red-flagging imbalances or dysfunctions in our body. Pain signals are transmitted from the injured area to the brain via electrical impulses, helping the brain to respond appropriately. While this is a beneficial response, it can sometimes be too much and hinder a patient's ability to recover from an injury. 
HelloPhysio's pain relief practice helps patients heal faster from traumatic injuries and manage chronic pain conditions to improve their quality of life.
Through an evidence-based understanding of injury presentation, our physiotherapy and rehab teams are committed to providing insightful and innovative treatments for clients. We offer the latest modalities in rehabilitation, strength and condition programs, sports physiotherapy, and musculoskeletal health at our pain and physiotherapy center in Singapore.
Our team's collective experience in treating injuries and restoring mobility has earned HelloPhysio the reputation of being a leading pain relief clinic in Singapore. HelloPhysio's team:
Helps you restore your normal function, relieve acute pain from injury, and work with orthopedic treatment plans following surgery.

Transforms the mechanical function of your body to support sustainable treatments that improve your musculoskeletal health and help you stay resilient against future injuries.

Enhances athletic performance by integrating the latest technologies into a continuous program to achieve the greatest clinical outcomes.
Our industry-leading pain relief therapies in Singapore complement our team's in-depth clinical knowledge about musculoskeletal dysfunctions and soft tissue injuries.
Our Approach to Physiotherapy for Pain Relief
Pain and physiotherapy go hand in hand. It is often an unpleasant experience associated with an acute traumatic incidence or repetitive musculoskeletal dysfunction that brings patients into our pain clinic. Pain was once viewed as an inevitable consequence of an injury or disorder, but it doesn't have to be!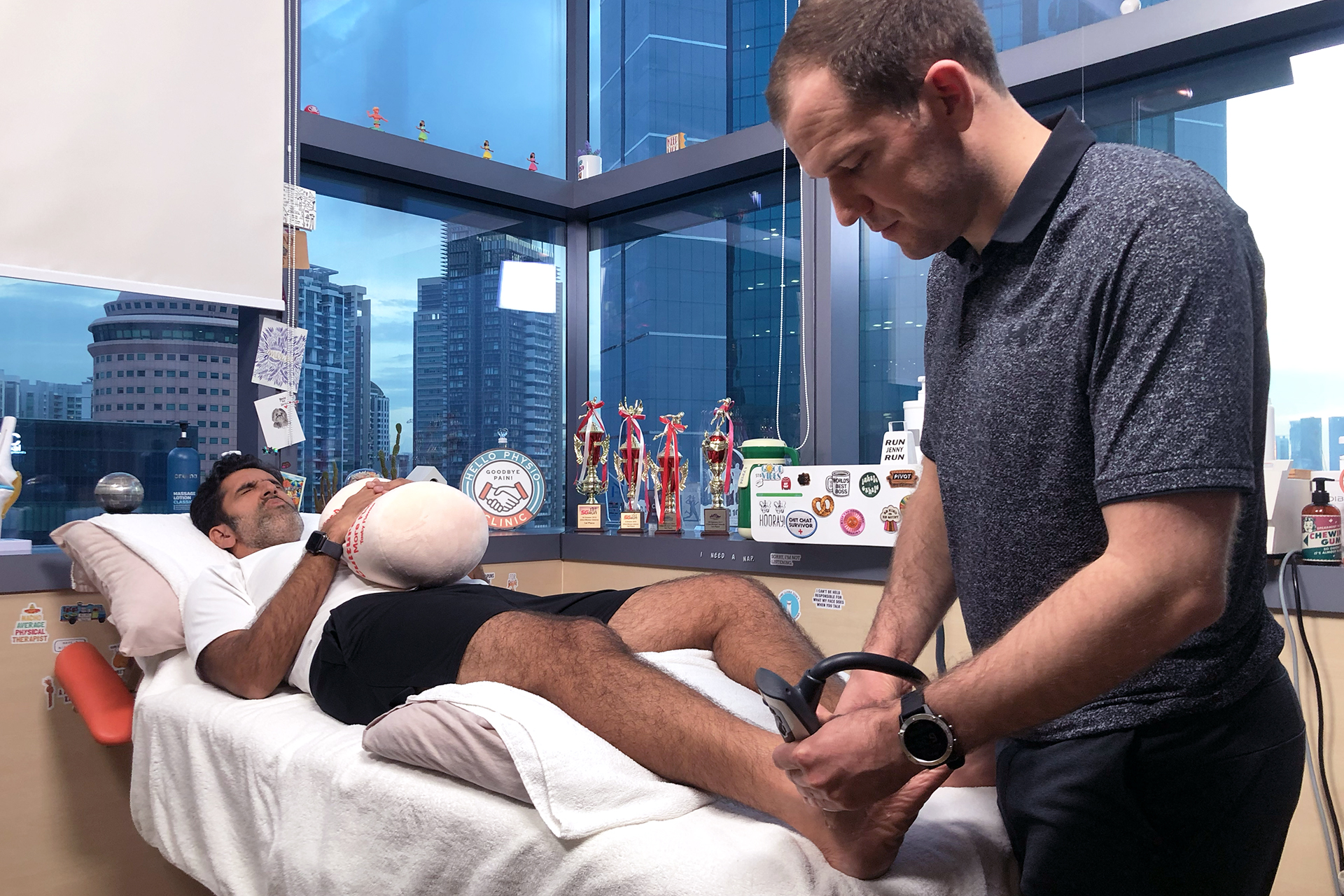 At HelloPhysio, our patient-centered approach to pain management physiotherapy combines traditional physiotherapy treatment, with trailblazing technologies and decades of experience. Our team works to activate the body's natural mechanisms to reduce the intensity and duration of both acute and chronic pain.
Patient education and empowerment is at the core of our philosophy of pain relief therapy to improve the body's optimal function. We feel it is important to take a holistic approach to pain management by incorporating technology, Clinical Pilates and alternative therapies, as required.
Our knowledgeable physiotherapists assess and diagnose the cause of the pain. We help to educate our patients on self-management strategies and exercise prescriptions as well as lifestyle modifications to prevent future injuries. We offer a wide range of effective physiotherapy treatments, from manual therapy to the latest evidence-based technologies like INDIBA® Activ, Shockwave Therapy, or LightStim® Red Light.
Understanding the Common Mechanisms of Why You Experience Pain
Seeing a physiotherapist can be integral to your rehabilitation from an injury or managing chronic pain relief adequately. 
Scar tissue formation is the body's natural response to trauma, injury, or surgery. When the body experiences tissue damage, the body will produce collagen fibers that are woven together to form a scar. This scar tissue can be painful if the wound is deep or if the surrounding nerves are damaged.
As scar tissue builds up, it can become thick and tight, leading to a decrease in range of motion and an increase in pain. Scar tissue can also cause inflammation, which can lead to more pain. Scar tissue formation can also create a cycle of pain as the scar tissue itself can cause more injuries and further pain.
Weakened or soft bone structures can lead to pain due to the increased risk of fractures. When bones become weak or brittle, they are more susceptible to injury and fractures, which can be extremely painful.
Weak bones can also result in muscle and joint pain as the muscles and joints are forced to support the weakened bones. Bone pain can also be caused by inflammation in the joints or soft tissues due to weakened bones. In addition, weakened bones can cause pain in the surrounding nerves, which can increase over time. 
Restricted range of motion can cause pain because the muscles and other soft tissues become tight and inflamed. When the range of motion is limited, the body will compensate by tightening the surrounding muscles and ligaments, leading to a decrease in flexibility and an increase in pain.
The restricted range of motion can also cause strain on the joints, leading to inflammation and pain.
As the inflammation increases, so does the pain. In addition, the lack of flexibility can make it difficult to move and perform everyday activities, further contributing to pain.
Muscle inflammation occurs when muscles are torn, and the body releases chemicals and nutrient-rich immune cells to the area to help with the healing.
Inflammation is a normal and necessary part of the healing process, but prolonged muscle inflammation can be damaging. This is especially when a joint or muscle is moved or pressure is applied. Pain can also be caused by imbalances and tight muscles.
Ultimately, it's a rehab practice rule of thumb that you make an appointment with a physiotherapist if your condition lasts beyond two weeks. As always, early intervention is always the best solution to relieve your discomfort and to ensure your body recovers fast and pain-free.
HelloPhysio paves the way with both traditional physical therapy and the latest technologies to reduce pain, re-establish movement patterns, and activate muscles so that you can return to your daily life.
Physiotherapy treatment plans are different for each client customized to fit an individual's needs, injury and lifestyle. Treatments from HelloPhysio may be eligible for claims through your health insurance provider.
Contact us today to arrange a session with a senior physiotherapist to discuss a targeted treatment plan.
Phone: +65 8787 3198
Email: hello@hellophysio.sg
HelloPhysio
101 Irrawaddy Road
Royal Square #10-12
Singapore 329565