Shockwave Therapy in Physiotherapy
Extracorporeal Shockwave Therapy (ESWT) harnesses intense short-energy waves to reduce pain and heal chronic orthopedic conditions noninvasively, by delivering "shockwaves" to injured soft tissue to reduce pain and promote healing.
ESWT focuses on delivering low-energy sound or acoustic waves, instead of electrical waves. Energy stimulation shifts the skeletal muscle response, which in turn creates a reaction in the cell's core and corresponding cell structures that leads to improved healing. Shockwaves generate positive pressure in tissues and cells, causing energy absorption, reflection, refraction, and transmission, which can treat tissue calcification.
Shockwaves have both physical and cellular effects that can help heal tissue and change how pain is perceived, and how the body's natural inflammatory healing response is stimulated by these chemical signals. These signals can then help the cells regenerate so that healing can occur.
HelloPhysio offers both focal and radial shockwave therapy. The technology noninvasively penetrates through the skin and radiates throughout the affected muscle, joint or tendon. This allows for treatment to the areas that are injured or damaged, making this a vital targeted therapy when it comes to musculoskeletal and soft tissue injuries.
In Singapore, shockwave therapy was introduced close to a decade ago, but overseas it has been FDA-approved in clinical practice for the treatment for plantar fasciitis since 2000, and tennis elbow since 2002.
HelloPhysio has both focal and radial technologies depending upon your specific injury or dysfunction. We also have the highest quality equipment available on the market by STORZ Medical, as not all shock wave therapy brands are equally as effective in treating musculoskeletal and soft tissue injuries.
Focal shockwaves typically target areas at a deeper level such as tissue close to the bone or calcifications non-invasively without damage to the skin and other soft tissue.
Radial shockwaves cover a larger area for cellular repair, but do not penetrate the skin as deeply. Conditions treated with radial sound waves include plantar fasciitis, tennis elbow, or Achilles tendonitis. It can treat muscle chains by breaking up adhesion and target trigger points allowing for myofascial release.
How Do Physiotherapists Use Shockwave Therapy in Clinical Practice
When going for a shockwave treatment, your therapist will utilize a hand-held device attached to a machine that produces sound waves from compressed air. Ultrasound gel will be placed on the skin before the treatment to allow the shockwaves to penetrate through the skin. Light pressure will also be applied as the device moves over the injured area.
The sound waves will increase blood flow in the area, which may also cause some localized irritation, which drives positive cell repair and regeneration. Your body will work to heal the localized irritation following treatment. Any damaged or wounded tissues can then start to heal, resulting in a reduction in pain and discomfort.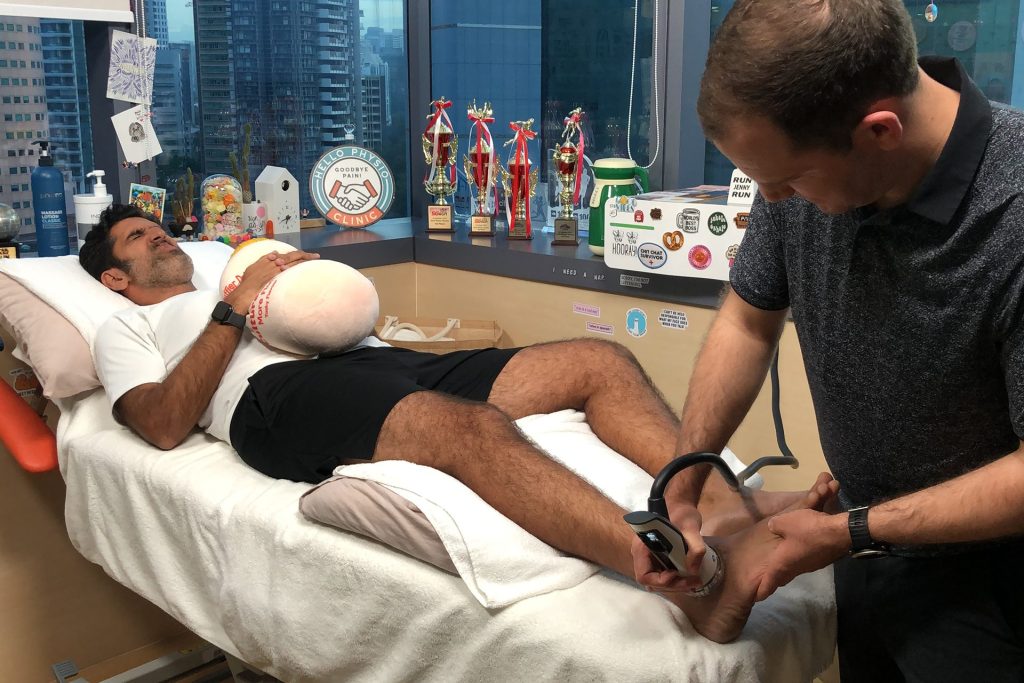 Physiotherapy shockwave therapy is also useful in breaking down scar tissue that may contribute to pain. Scar tissue tends not to be elastic, leading to immobility in the surrounding tissues. By bringing sound waves subdermally, calcification and scar tissue are broken down leading to enhanced movement and range of motion in joints, thereby reducing the pain syndrome.
ESWT is a great rehabilitation treatment option for patients whose injuries do not respond to first-line treatments such as rest, ice, or braces. It is also an alternative for those who do not want to undergo more invasive therapy options.
A physio shockwave therapy session takes between 15 to 20 minutes. Patients may feel a little pain, but the physiotherapist will manage the discomfort. Wearing loose clothing will allow for a greater level of comfort. Some conditions may require more physiotherapy sessions based on individualized physiotherapy plans.
What Conditions Can Be Treated with Physio Shockwave Therapy
Shockwave therapy can be modulated in different ways depending on your injury. These variables include energy flux density, number of impulses, focused or radial shockwave, recency and frequency of treatment sessions, area of application, and postprocedural therapy protocols.
By adjusting treatment protocol variables for your specific musculoskeletal or soft tissue injury, extracorporeal shockwave safely treats dysfunction and injuries in athletes, including:
Rotator cuff tendinopathy
Lateral elbow epicondylopathy
Greater trochanteric pain syndrome
Hamstring tendinopathy
Patellar tendinopathy
Tendinopathies
Plantar fasciopathy
Bone stress injuries
ESWT can also be used to treat in-season athletes because it is a non-invasive treatment that often requires minimal time away from the sport, as well as being able to produce immediate results. The therapy should be used in conjunction with physical therapy to promote long-term functional gains and to optimize healing outcomes.
The use of ESWT in a sports medicine practice has musculoskeletal indications and contraindications. ESWT is frequently used when conservative treatments such as rest, optimal loading, and non-steroidal medications fail. It's noninvasive, and shockwave therapy side effects are few, if any. The therapy allows you to keep playing sports as long as your pain levels allow, and also benefits chronic pain management in athletes.
ESWT is a step before invasive surgery, which usually requires a long time away from the sport. In the right conditions, the treatment protocol can keep the athlete in the game, without needing invasive treatments with long periods of recovery to mend.
For athletes with peripheral musculoskeletal conditions, shockwave therapy treatment is a safe therapeutic modality. The adjunct treatment modality does not necessitate a significant amount of time away from sports with beneficial short-term efficacy of pain relief. An ESWT session can be combined with other treatment modalities to achieve longer-term benefits, and it should be used as an adjunct to, rather than a replacement for, physiotherapy.
Role of Extracorporeal Shockwave Treatment in Musculoskeletal Disorders
One mechanism through which shockwave therapy affects the cell is by creating the release of adenosine triphosphate (ATP) – the energy-carrying molecule found in the cells of all living things – which activates cell signaling pathways and changes the function of ion channels in the cell membrane. Shockwave therapy has also been shown to induce the release of nitric oxide, resulting in analgesic, angiogenic and anti-inflammatory effects downstream.
The treatment modality for soft tissue injuries and musculoskeletal dysfunctions also increases collagen synthesis. Although collagen synthesis occurs naturally in the body, shockwave therapy can expedite the process by stimulating the repair of musculoskeletal and tendon structures improving the density and strength of newly formed ligaments fibers.
The treatment can also boost tendon cells proliferation and osteoprogenitor – the 'stem' cells of bone – differentiation. The increased growth rate of tenocytes can aid in the recovery in the tendons. Osteoprogenitor cells are naturally activated when the body is healing, differentiating into osteoblasts or chondrocytes, to produce bone or cartilage respectively. At a micro-level, this increased osteoprogenitor differentiation from shockwave therapy can assist with bone healing, even after an injury.
Treat Musculoskeletal Sports Injuries with Shockwave Physiotherapy
Nothing is worse for an athlete than a debilitating sports injury. Recovery time is essential, but the pain and discomfort may not be. Shockwave physiotherapy can accelerate the healing process, breakdown scar tissue, reduce recovery time, and get you back on track without invasive surgery for conditions such as Achilles tendinopathy, tennis elbow, frozen shoulder or medial tibial stress syndrome.
As more evidence supports the use of shockwave physiotherapy, it is increasing in popularity as part of sports therapy rehabilitation of injured athletes.
If you're living with an injury now, or recovering from an injury, it is vital you get it tended to, to recover. What may seem like a slight pain in your ankle, wrist or shoulder today can evolve through repetitive overuse into an injury that puts you out of commission. That niggling condition can exacerbate into a complex issue that requires orthopedic surgery. Or repercussions from a past injury can linger, creating undue tension and stress in your body.
In combination with other complementary therapies and technologies at our clinic, shockwave therapy can help with the treatment of chronic and acute pain and improve clinical outcomes. Contact HelloPhysio today with any questions about how shockwave therapy can benefit your rehabilitation. The session cost of shockwave therapy in Singapore varies based on the injury presentation and prescriptive treatment. Make an appointment today.