Musculoskeletal Disorders and Soft Tissue Injuries
HelloPhysio treats musculoskeletal disorders with sound clinical knowledge of injury presentation coupled with the latest in adjunctive technologies. Our physiotherapy clinic's treatment philosophy is a collaborative approach with the patient at the core of their own recovery journey. Our clinic's passionate about your overall musculoskeletal health and resilience against future soft tissue injuries.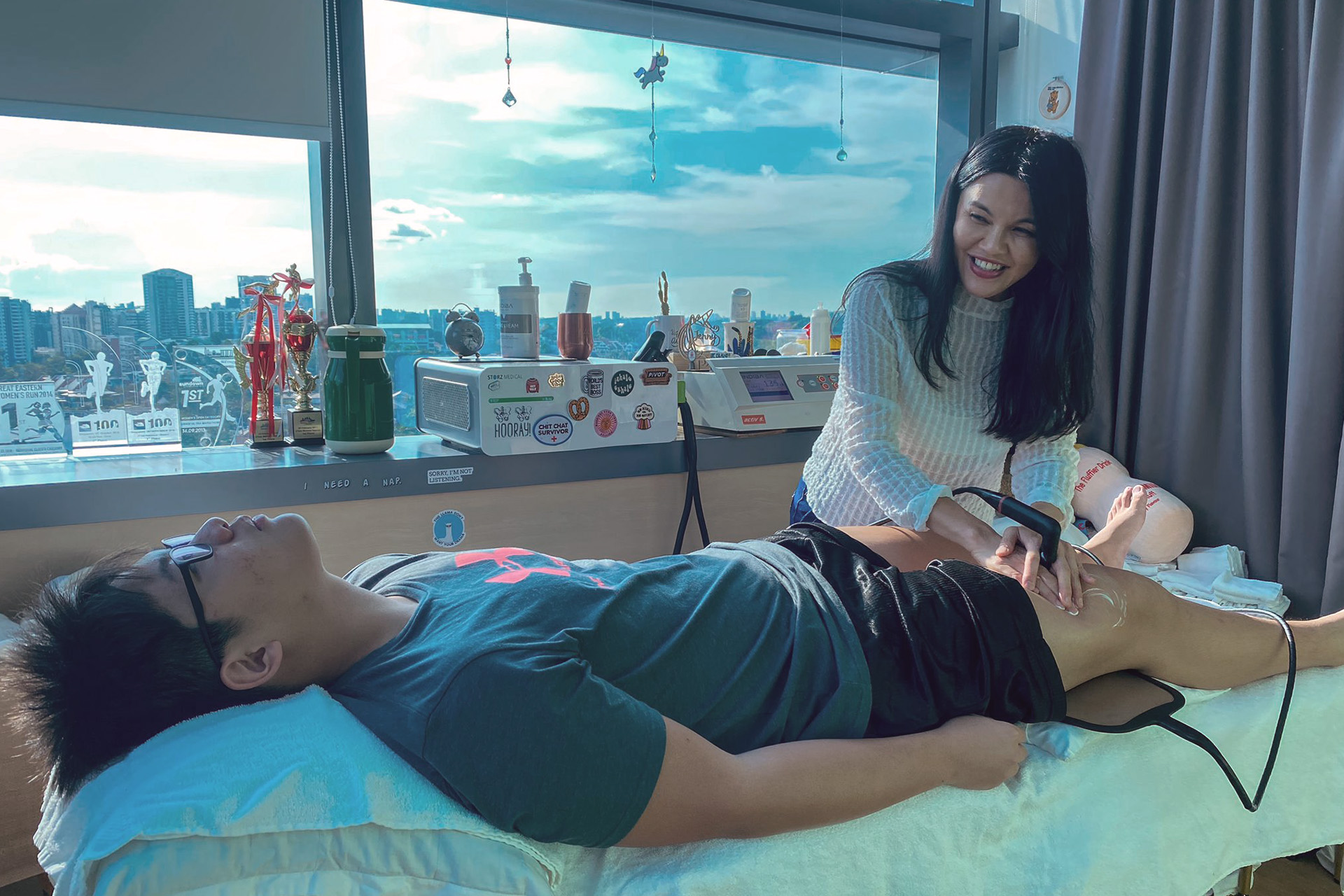 What Is a Musculoskeletal Disorder?
More than 150 conditions can be classified as musculoskeletal disorders (MSK). These affect the nerves, tendons, muscles, and supporting structures in your body, such as your back discs. They range from acute sudden injuries, such as fractures, sprains, and strains, to those that are considered chronic or lifelong and are associated with ongoing functional limitations and disability.
Musculoskeletal disorders happen through repetitive strain injuries, microtrauma that accumulate in an acute condition or occupational disorders from work activities. The condition is typically characterized by frequently persistent pain  limiting mobility, dexterity, and overall level of function of the body. This affects the patient's ability to work and live an active lifestyle.
When musculoskeletal imbalance happen in the body, the body's reparative function supersedes its ability to heal itself.  These imbalances lead to inflammation and other physiological indications of pain. The most frequent cause of musculoskeletal dysfunctions of the bones, joints, muscles, tendons or ligament include:
Muscles use chemical energy from sugars and produce byproducts like hydrogen ions that are released when muscles contract as adenosine triphosphate is broken down. As the flow of blood slows during contraction, toxins accumulate that irritate muscle fibers. The intensity of pain experienced is directly related to the length of muscle contraction, the duration between repetitive movements and the ability of the body to flush out the toxins.
Tendons are made up of numerous fibrous membranes that produce a lubricating fluid to help muscle and joint function. When the tendon, surrounding muscle or bone becomes injured, the tendon sheath becomes inflamed and becomes painful. This is especially true for athletes where repetitive activities create a lot of friction, but it's also prevalent in professional trades too.
Nerves transmit signals from the brain to control the body's function from regulating body temperature and the pain indication. When muscles, tendons and ligaments expand and contract, the repetitive movement compresses the nerve to create the "pins and needles" sensation we often feel with a musculoskeletal injury.

What Causes Musculoskeletal Disorders and Related Pain?
Musculoskeletal pain and swelling can range from mild to severe, with discomfort in the muscles, bones, ligaments, tendons, and nerves. Pain can be localized and felt in only one part of the body or more widespread in conditions like fibromyalgia.
Musculoskeletal damage goes beyond repetition and stress – cumulative risk factors and conditions contribute to musculoskeletal disorders, including: osteoarthritis, rheumatoid arthritis, osteoporosis, fractures, sarcopenia or spine and back pain.
Getting the right diagnosis from a trained practitioner will help to address both the injury and the rehabilitation which follows. Self-diagnosis and online treatments can often cause further complications down the line by not getting to the root cause of the musculoskeletal dysfunction.
What is the most effective treatment for a musculoskeletal disorder?
Patients who benefit from our musculoskeletal physical rehabilitation program include those who suffer from acute orthopedic trauma, post-operative patients following joint replacement surgery, or those diagnosed with chronic pain conditions.
As physiotherapy is a catalyst of patient care, HelloPhysio's physio and rehab team empowers patients with the latest evidence-based information, clinical therapies and leading technology to help you regain function, and without pain.
HelloPhysio's physiotherapy is tailored to the needs of the individual, depending on the nature of the problem or disease. Explore the various services we provide for patients our physiotherapy clinic in Novena.