About LightSpeed Lift Physiotherapy Equipment
To complement the leading clinic's ongoing arsenal of state-of-the-art technology to benefit clients and speed injury healing and recovery, the rehabilitation center in Singapore is outfitted with a new Merrithew SPX® Max Reformer for one-on-one Clinical Pilates; physiotherapy equipment for personal training sessions; and, introduces the LightSpeed Lift patented bodyweight "lift-from-the-hip" support system for rehabilitation to reduce impact force up to 18 kilograms.
It's clinically easy to understand how patients' rehabilitation programs would benefit from the use of a treadmill at reduced body weight load. But beyond clinical practice, LightSpeed reduces impact force, encourages better form, and allows for unrivaled increased cardio, speed, and endurance training for serious athletes.
Training top-performing athletes to achieve even loftier goals without the increased incidence of injury risks (e.g., stress fractures, tendonitis, sprains, and immune diseases) is difficult enough. But the LightSpeed Lift "anti-gravity" body weight support system is specifically designed as an addition to a treadmill to relieve weight from a person's body by creating an anchor point for the use of movements in all three planes of motion: sagittal (forward and backward), frontal (right and left) and transverse (rotation). This simple, yet revolutionary tri-planar lift design gives athletes and patients support with the maximum range of motion.
Body-Weight Support Physiotherapy Equipment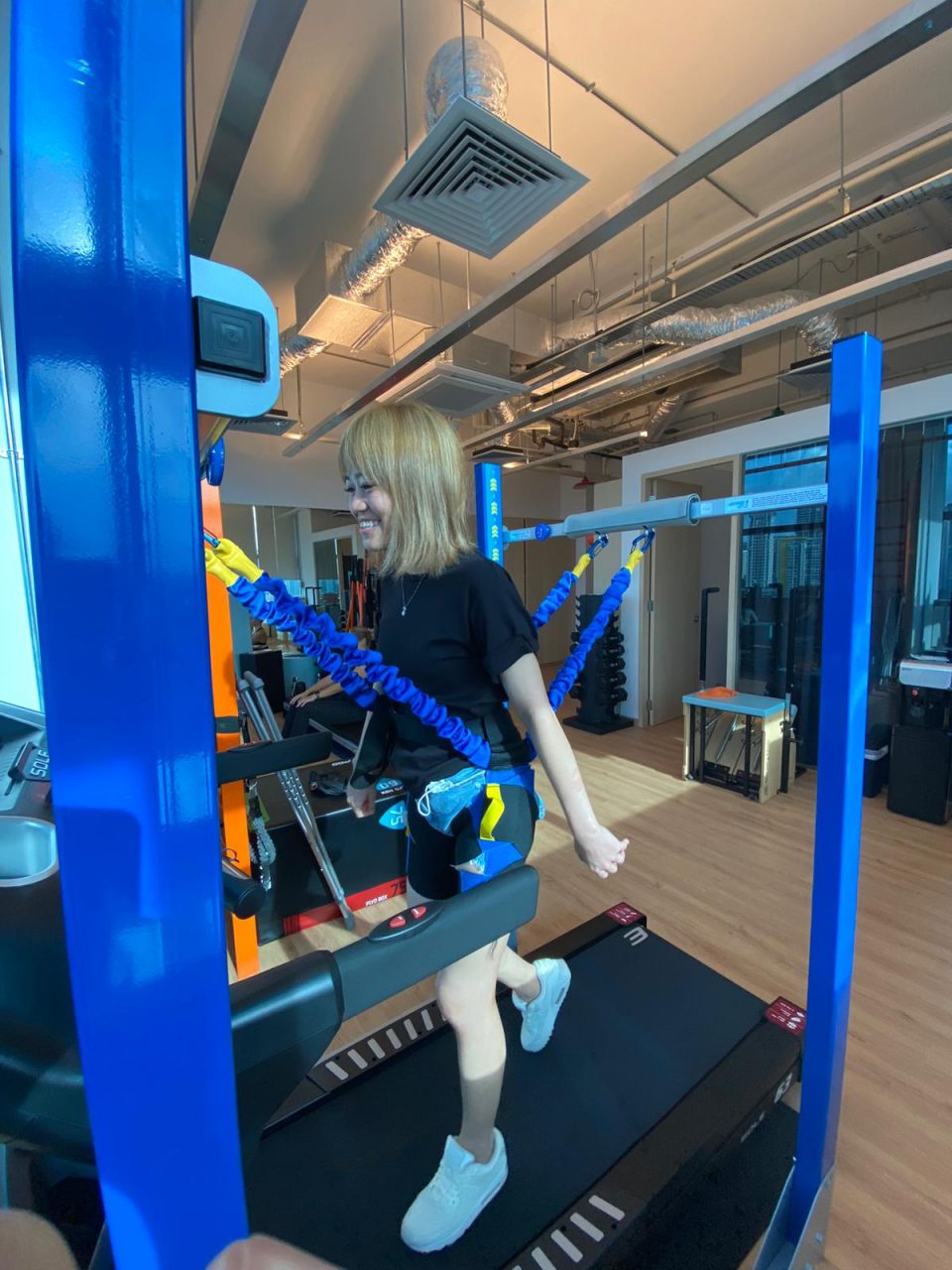 "The body weight support system reduces impact force with a controlled body lift while walking or running on a treadmill, which allows patients to start on treatment earlier in an acute or post-surgical care plan," Jenny Huang, founding and senior physiotherapist at HelloPhysio and HelloPhysio Rehab Studio. She continues, "Rather than the traditional four to nine weeks surgical post-op, utilizing technology and equipment such as LightSpeed Lift reduces rehabilitation time; cuts down on patient and insurance costs; and, simply, allows patients to get back into active lifestyles quicker."
With the use of a lift-belt attachment device, walking or running become easier, enjoyable, and safe.
HelloPhysio continues to enhance patient care by curating the latest therapeutic modalities as adjuncts to hands-on manual touch with evidenced-based new technologies for physiotherapy in Novena like the LightSpeed Lift and the MAGNETOLITH® Extracorporeal Magnetotransduction Therapy for rehabilitation and regeneration of musculoskeletal diseases.