Major surgery takes a toll on the body. Post-surgical rehabilitation is essential to ensure your body has the chance to properly heal and minimize the complications following elective surgery.
A pain specialist in Singapore, like a physiotherapist, works to reduce pain by minimizing scar tissues using the latest technology advances and increasing joint mobility through manual therapy.
What is Surgical Rehabilitation?
Post-operative physiotherapy helps to re-establish joint movement and function, as well as to retrain muscles. The earlier you, your doctor, and a physiotherapist develop a rehab and treatment plan together, the faster the recovery.
Earlier this month, we described the clinical benefits of prehabilitation as part of your post-surgery rehabilitation. As a complement to that article, this second part of the series provides more in-depth information about what you should expect during post-operative physiotherapy.
Pain, inflammation, reduced range of motion, and muscle atrophy are all unfortunate side effects of surgery. Rehab after surgery speeds up the healing process to help you recover and build muscle strength so that you can resume your daily activities faster.
The length of time it takes to recover from surgery is determined by a number of factors, including:
The type of surgery plays a significant role in your recovery.
Pre-operative muscle strengthening directly correlates to post-operative strength.
Treatment plans, such as the use of non-invasive radiofrequency, magnetic oscillation, and shockwave therapies, significantly impact recovery.
Each patient's case is unique. The recovery period from a sports injury such as an anterior cruciate ligament/ACL reconstruction differs from degenerative chronic disorders that require total knee replacement surgery. That's why we work intimately with orthopedic surgeons to develop a personalized treatment plan.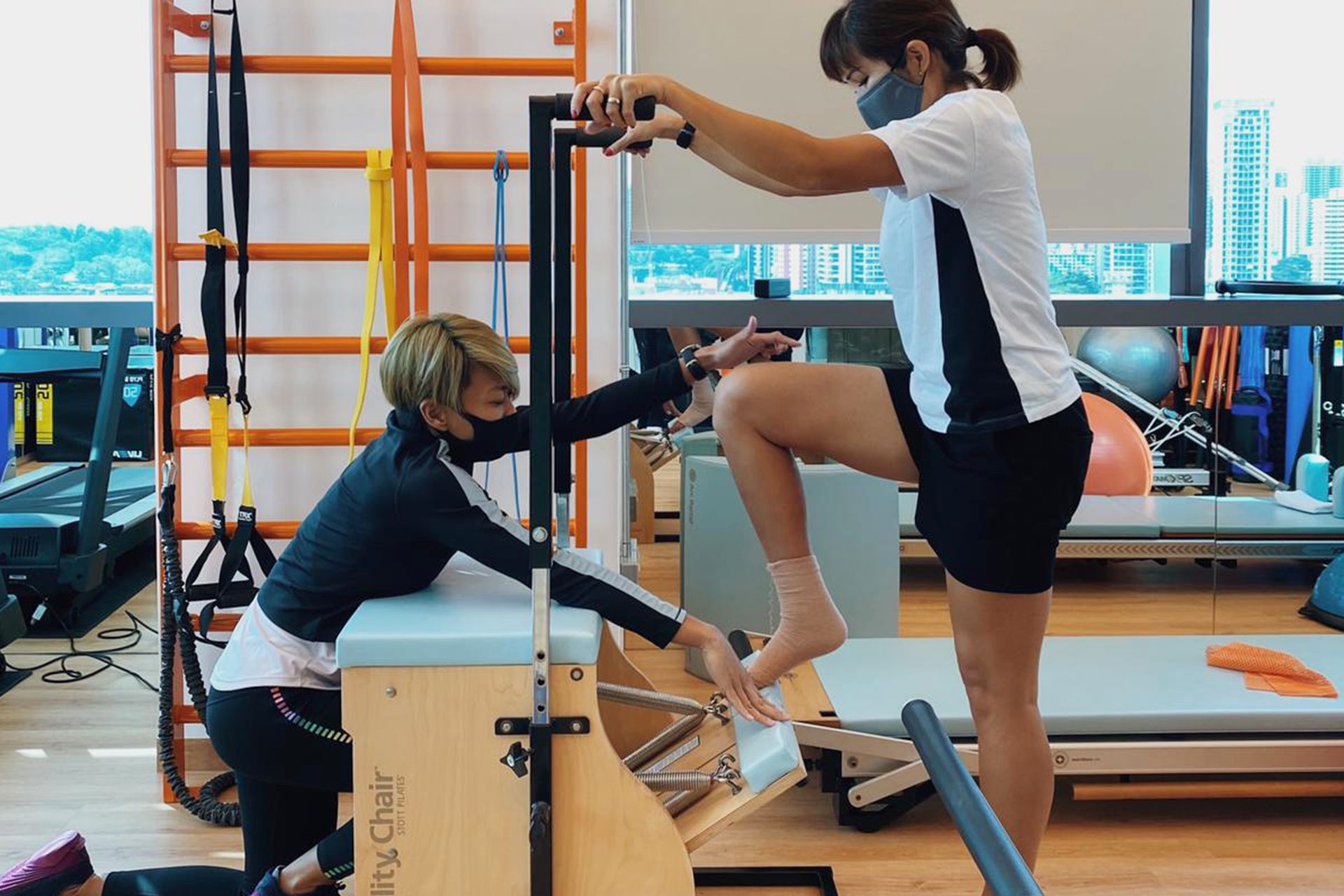 What Is the Use of a Physiotherapist after Surgery?
Surgery can be a frightening prospect, but the post-operative rehabilitation process doesn't have to be. HelloPhysio works with patients both before and after their surgeries to help them get the most out of their recovery and rehabilitation. Your surgery recovery success is determined not only by the surgery but also by your pre-and post-operative rehabilitation.
For both elective and emergency surgeries, our physio clinic has experience with patients who have undergone joint replacement, arthroscopes, ligament reconstruction, muscle repairs, or surgical fractures. HelloPhysio brings the latest evidence-based post-operative care therapies and follow orthopedic guidelines to assist patients in regaining full strength and function.
Our physiotherapist will guide you through the prescribed treatment plan from your surgeon to ensure optimal results throughout your rehab treatment process. After surgery, we will work with your doctor on a physiotherapy treatment plan. Exercise and movement soon after major surgery helps to reduce swelling and prevent immediate pain from turning into a chronic condition.
After knee surgery, for example, the choice of adjunctive therapy and Clinical Pilates strengthening exercises is gauged by your surgical procedure. Some exercises and therapies help in pain management while others improve the mobility of the knee.
Our clinical team may recommend INDIBA Activ as it works well with post-operative patients to reduce swelling and bruising. The cellular technology breaks down scar tissues typically within the first session by returning blood deep into the tissues to break the pain cycle.
We complement the use of technology with Clinical Pilates to improve your range of motion to improve blood circulation and build muscle strength following knee surgery. Your rehab and treatment may also include the LightSpeed Lift body weight support system to get you mobile earlier in the treatment cycle to further activate muscles and restore joint function.
Prehabilitation and post-operative physiotherapy may be eligible for health insurance claims by your provider. If you have any insurance questions, do feel free to contact the physio clinic to discuss your treatment options. We're a leading pain specialist in Singapore. Find out more about the non-invasive technologies we use to speed the recovery process.
Explore our Post-Operative Physiotherapy Services.
---

Read our related article, "Prehabilitation: Benefits of Preoperative Physiotherapy in Singapore," on how your recovery process starts even before your surgery.